SPECIALITY SKIN TREATMENTS
Semi-Permanent Tattooing
Microblading/Microstroking
This is the most 'natural' look of all eyebrow techniques. Microblading, also known as Microstroking or Feathering, involves using ultra-fine hair strokes to create a very natural, realistic brow for those who have sparse brows, no tails or are just wanting to perfect & define their shape. In a microblading treatment, our licensed Cosmetic Tattooist (Sarah) determines the most flattering brow shape for your face. She will numb your brows and use a handheld blade to manually draw hair-like strokes in your epidermis, the outer layer of skin. These are filled with medical-grade pigment to create a semi-permanent eyebrow tattoo that looks full, yet natural. 
Microblading/Ombre Consultation  …………….. $60 (redeemable off treatment)
Microblading (1st & follow up visit)  …………………………………………………… $620
Ombre Brow
This technique best resembles a soft 'makeup look'. Using a specialised digital tattoo machine, the brows are filled using two different colours, a lighter colour at the bulb of the brow and a darker colour towards the tails to create definition. 
Ombre Brows (1st & follow up visit)  ……………………………………………………$690
Lash Enhancement
Upper eye liner is the most natural form of eyeliner and is ideal for those looking to darken and accentuate the lash line, alleviate the appearance of 'droopy eyes' or save time in their morning routine.  Pigment is applied to the upper lash line in a thin and slightly tapered line to create the illusion of darker, fuller lashes.
Upper Eye Liner (1st & follow up visit)  ………………………………………………..$480
Lip Line and Blend
This treatment is best for those looking to enhance their natural lip colour, create a fuller looking lip or to correct asymmetry in the lips. Lips are lined in the desired colour and blended into the lips to create a natural gradient.
Lip Enhancement (1st & follow up visit)  ………………………………………………$600
All Semi-Permanent Tattooing appointments require a deposit of $100 at the time of booking. This is transferable, but not refundable (except for medical reasons). 48-hours notice of change of appointment is mandatory for all appointments or deposit will not be credited to the new appointment.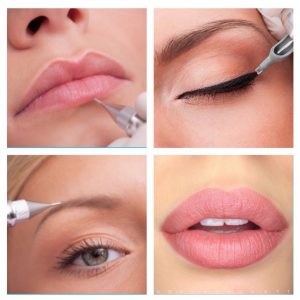 Dermapen
45 minutes …………………………………………………. $295
Dermapen is a device which has superseded Dermal Rollering. It has oscillating micro-needles which penetrate the skin creating controlled micro-trauma to the skin that prompts the stimulation of growth factors responsible for the promotion of collagen. The more collagen your skin has, the more elastic, less wrinkled and better textured your skin will be! Dermapen works incredibly well to improve the appearance of ageing, wrinkles, uneven skin tone, uneven texture and scar tissue. Treatment includes consultation, cleanse, exfoliation, moisturiser, & SPF, as well as a free mini facial follow up 3 -5 days later.
Specialised Peeling
45 minutes ……………………………………………………. $85
Peeling works in synergy with our ethos of creating healthy skin by nourishing the skin with vitamins, antioxidants and protecting with sunscreen. During you skin consultation your skin care professional will recommend a peel that is suitable for you. Please note, it is advisable to prepare the skin with Environ's vitamin A moisturisers for a minimum of three weeks prior to peeling.
IPL – Skin Rejuvenation
Single lesion ……………………………………. $60
Hands ………………………………………………… $80
Full Face ……………………………………………. $175
Half Face …………………………………………… $149
Mid Face ……………………………………………. $90
Neck ……………………………………………………. $100
Decolletage ……………………………………… $100
We use the latest Eclipse (NZ) certified technology to treat pigmentation such as 'sun spots' and vascular lesions (spider veins, broken capillaries). This treatment will also stimulate collagen production, modify connective tissue, tighten dilated pores, improve skin elasticity and reduce fine lines.
Lamprobe
15 minutes ……………………………………………………. $60
The Lamprobe is a safe and effective way to treat minor skin imperfections using radio frequency and high frequency technology. It is ideal for the treatment of skin tags, spider naevi, cholesterol deposits, milia, telangiectasia, acne, fibroma simplex and clogged pores. In most cases one treatment is all that is required.